Wednesday, April 30, 2008
TV, need I say more?
Like I've said before, I watch WAY too much TV. Thursdays are by far the busiest. I watch Survivor on CBS at 7PM. Oh can you believe both Ozzy and Jason got so blindsided? What idiots! Then I switch over to NBC and watch The Office. I was bummed last week when I saw Scrubs got moved to 7:30PM and I totally missed it. I'll have to record it this week and maybe catch up with last week's online. Then I switch over to ABC and watch Lost. So then I have to record ER and watch it later. And Grey's Anatomy I watch online some time in the weekend. As for the rest of the week I watch a show almost every night. Sundays I have to watch Desperate Housewives at 8PM. Mondays House is back at 8PM and then it's Medium at 9PM. Tuesdays are kind of slow and there's nothing I absolutely have to watch but I watch Beauty and the Geek at 7PM and Reaper at 8PM. Wednesdays absolutely nothing again, but if I'm home I'll watch America's Top Model at 7PM and Supernanny at 8PM. Thursdays I've already mentioned above. On Fridays it's Moonlight at 8PM and then Numb3rs at 9PM. I've grown attached to Moonlight and have to watch it now, but Numb3rs I can miss. I am such a vampire geek I love vampire books (Anne Rice, I've read all her vampire books) and vampire movies. I don't know I guess I'm fascinated by them and have been since I was in high school. Last week I missed Moonlight so I watched it online after I watched Grey's Anatomy. How did the world survive before there was TV? I guess back then people had more work to do like farming and making their own clothes. We are so spoiled nowadays. I do sew though and made Olivia a pillowcase dress but it hasn't been warm enough for her to wear it yet. I might make her another dress I found a different pattern online for one. I got these really cute buttons at Wal-mart last week that I'm going to use as accents on her dress. Maybe I'll even make her a skirt. We'll see, I'll post some pictures of my finished work whenever I get around to doing it.
Money Never Sleeps - Tu-Shonda Whitaker The bling is brighter, the drama is amped up, the delicious beauties from Tu-Shonda's Milli...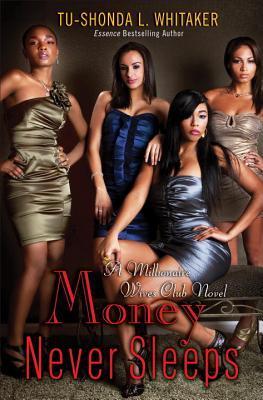 We went to Dan's work retreat last week and stayed at Chase on the Lake in Walker, MN.  Something we didn't know about before we st...

 Talking as Fast As I can: From Gilmore Girls to Gilmore Girls, And Everything in Between - Lauren Graham In this collection of persona...