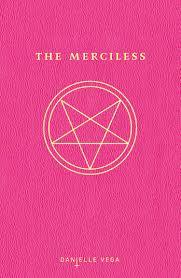 Forgive us, Father, for we have sinned
Brooklyn Stevens sits in a pool of her own blood, tied up and gagged. No one outside of these dank basement walls knows she's here. No one can hear her scream.
Sofia Flores knows she shouldn't have gotten involved. When she befriended Riley, Grace, and Alexis on her first day of school, she admired them, with their perfect hair and their good-girl ways. They said they wanted to save Brooklyn. They wanted to help her. Sofia didn't realized they believed Brooklyn was possessed.
Now, Riley and the girls are performing an exorcism on Brooklyn--but their idea of an exorcism is closer to torture than salvation. All Sofia wants is to get out of this house. But there is no way out. Sofia can't go against the other girls...unless she wants to be next...
In this chilling debut, Danielle Vega delivers blood-curdling suspense and terror on every page. By the shockingly twisted end, readers will be faced with the most haunting question of all: Is there evil in all of us?
This story pretty much takes place in one night. Riley and her friends trying to exorcise Brooklyn. They do this by cutting her, torturing her and turning on each other. I though the ending was pretty predictable and I thought more could have been done with Sofia and her past.