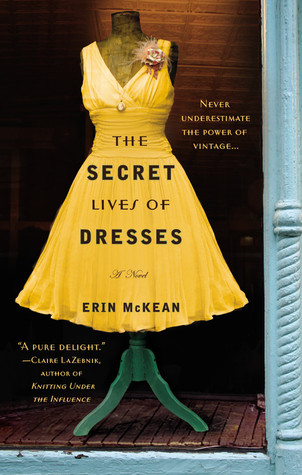 Dora has always taken the path of least resistance. She went to the college that offered her a scholarship, is majoring in "vagueness studies," and wears whatever shows the least dirt. She falls into a job at the college coffee shop, and a crush on her flirty boss, Gary.
Just when she's about to test Gary's feelings, Mimi, the grandmother who raised her, suffers a stroke. Dora rushes back home to Forsyth, NC, and finds herself running her grandmother's vintage clothing store. The store has always been a fixture in Dora's life; though she grew up more of a jeans-and-sweatshirt kind of girl, before she even knew how to write, Mimi taught her that a vintage 1920s dress could lift a woman's spirit.
While working there, Dora befriends Mimi's adorable contractor, Conrad. Is he after Dora, or is working from a different blueprint? And why did Mimi start writing down--and giving away--stories of the dresses in her shop?
When Mimi dies, Dora can't get out of town fast enough and cedes control of the store to her money-hungry aunt who wants to turn it into a t-shirt shop for tourists. But ultimately, she returns to Forsyth, willing to battle whatever may stand in the way of her staying there. Dora can trade her boring clothes for vintage glamour, but can she trade her boring life for one she actually wants?\
I thought it was a cute story about a girl, Dora who has never known what she wants in life or who she really is. Dora's parents died when she was very young and she was raised by her grandmother Mimi. Her grandmother has always tried to get her to wear the vintage clothes and even goes as far as making a closet for Dora full of vintage clothes. When Mimi gets a stroke, Dora decides to go back to Forsyth. Leaving behind a guy she has had a great crush on, she meets a new man who she could fall for. All the while running her grandmother's store and dealing with an annoying and pushy aunt who is trying to change Mimi's store. I like how you saw Dora grow throughout the book and all the lovable characters in the book.